Jetstream Multi Bypass Valve for Water Blasting Machine
Introductions:
Abypass valve diverts a portion of pump flow to a low-pressure outlet and is used on diesel and electric units.
For diesel engines, it is used to prevent bogging the engine when using flows at the low end of the pump's capability. Abypass valve is required on electric units due to the non-adjustability of motor speed.
. Two minute field-replaceable cartridge design for minimal downtime
. Hand adjustment-no wrench needed
. Pump mount model connects to fluid end manifold
. Base mount model connects in-line downstream and includes a protective cage and a pressure gauge for remote adjustment
. All pressure-bearing components precision machined from stainless steel
. Specially designed inlet connections are superior to industry standard connections and use a replaceable seal rather than metal to metal contact
Specifications:
Inlet Connection
Mounting Style
Low Pressure Outlet Connection
Dimension
Weight
Max. Operating Pressure
Length
Diameter
lbs
kg
psi
bar
20k Port Female
Pump or Base Mount
1/2" NPTF
10'
4.5
11
5
20000
1379
Spare Parts List: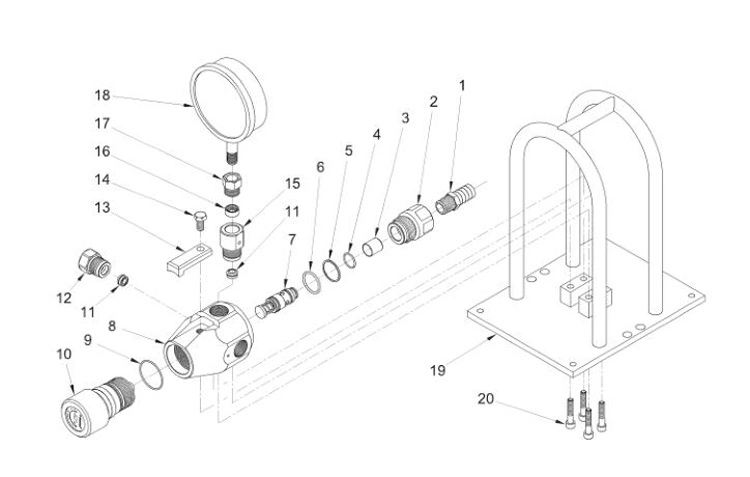 Item Part Number Description
1 27350 Hose Fitting
2 54587 Outlet Adapter
3 52201 Diffuser
4 26782 O-Ring
5 54591 Backup Ring
6 25229 O-Ring
7 52255 Cartridge
8 54584 Body
9 25603 O-Ring
10 52144 Adjustment Knob
11 52040 20K Seal
12 52076 Plug
13 50795 Locking Arm
14 25593 Capscrew
15** 52044 Adapter
16** 26635 Collar
17** 26645 Gland Nut
18** 25037 Gauge
19** 52486 Base/Cage
20** 25700 Capscrew