ADVANTAGES:
---IMPORTED SKF BEARINGS;
---IMPORTED ROTATING JOINT;
---ADOPT DYNAMIC BALANCE TO THE PULLEY, IT CAN WORK MUCH MORE STABLE;
---SPRAY TWO TIMES ANTI-RUST PAINTS, SO IT WON'T RUST ALL THE TIME;
---316L STAINLESS ROLLER ETC HIGH QUALITY MATERIALS;
---BUILD IT STRICTLY ACCORDING TO THE ORIGINAL KNELSON CONCENTRATOR'S PRINCIPLE......
Ghana 200t/h Alluvial Gold Ore Project, which is invested by Australia client, they buy complete set washing plant from us, after this project, they place another 100t/h alluvial gold plant to us, total amount is more than $360,000.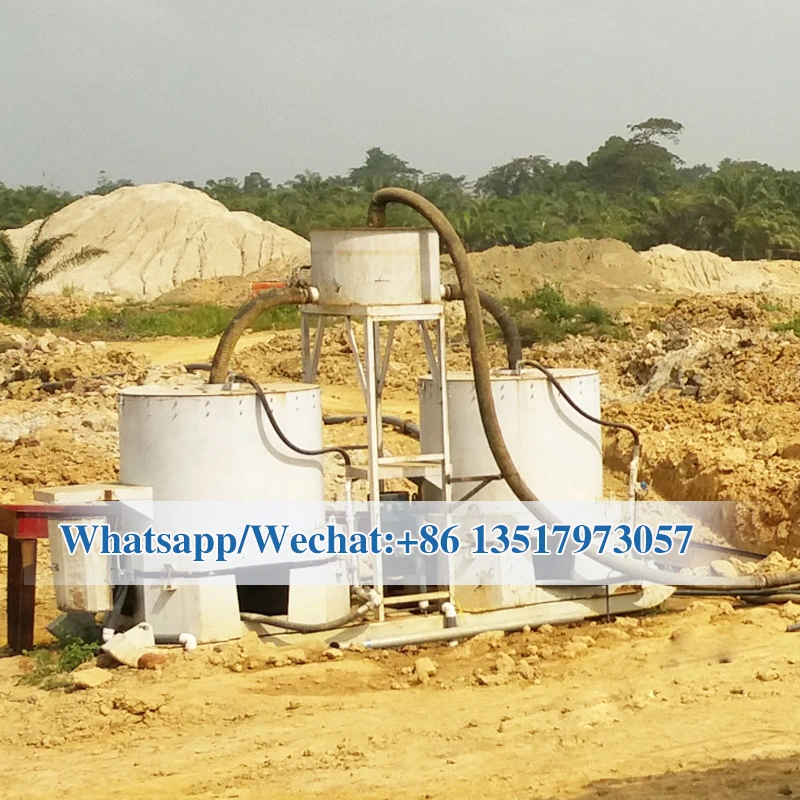 Features
1.
Low water and electricity requirements;
2.
High concentrating ratio and high recovery;
3.
Quick payback on investment, typically lass than half year;
4.Environmentally friendly(requires no chemical additives or reagents);
5.
Low production costs, durable wear parts, minimal maintenance requirements;
6.
Center discharge design for fast, secure concentrate removal;
7.Compact design requiring less space, easy merged into the existing mining processing;
8.
Steady recovery performance;

Descriptions
Centrifugal Concentrator is a relatively new type of gravity concentration apparatus. The machines utilize the principles of a centrifuge to enhance the gravitational force experienced by feed particles to effect separation based on particle density. The key components of the unit are a cone shaped "concentrate" bowl, rotated at high speed by an electric motor and a pressurized water jacket encompassing the bowl. Feed material, typically from a ball mill discharge or cyclone underflow bleed, is fed as a slurry toward the center of the bowl from above. The feed slurry contacts the base plate of the vessel and due to its rotation, is thrust outward. The outer extremities of the concentrate bowl house a series of ribs and between each pair of ribs is a groove. During operation the lighter material flows upward over the grooves and heavy mineral particles (usually of economic value) become trapped within them. Pressurized water is injected through a series of tangential water inlets along the perimeter of each groove to maintain a fluidized bed of particles in which heavy mineral particles can be efficiently concentrated.
Laos' 100t/h Alluvial Gold Ore Project, use GT1848 Trommel Screen + STLB80 Gold Centrifugal Concentrator, get very good gold recovery ratio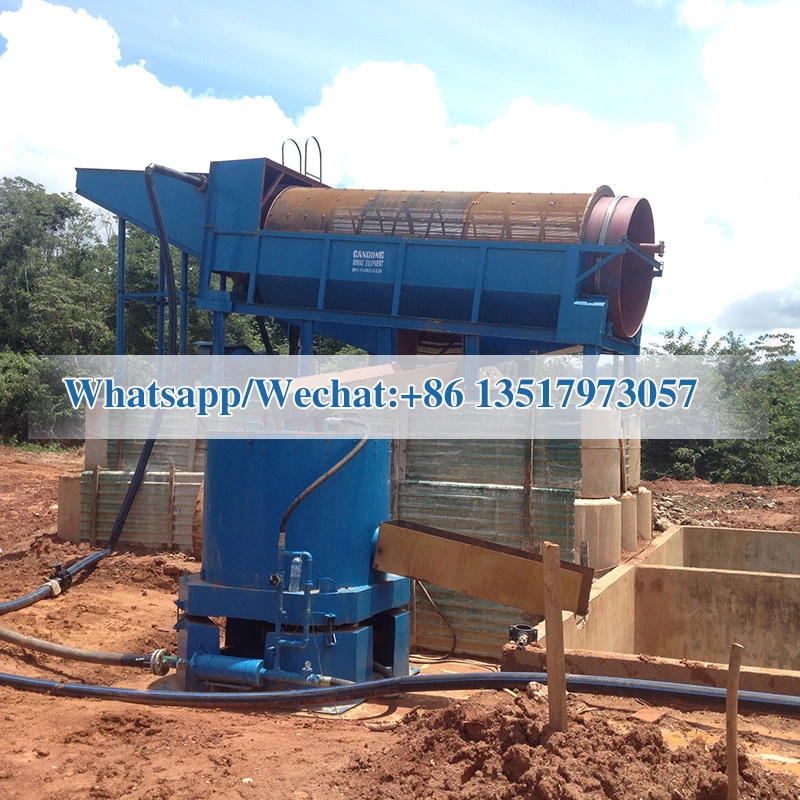 Centrifugal Concentrator was patented in China. It is an efficient equipment for recovering free gold in all particle size ranges, specially for recovery of fine gold which is lost during the operation of the gravitational concentrators(sluice boxes and jigs). It can be used not only for placer gold mining, but also for hard rock mining to recover the natural gold, replacing amalgamation, and recover gold from the old tailings.

Application shows that the recovery can be as high as 99%, and the concentrating ratio is up to 1,000 times. In recovering the natural gold in lode ore with size -0.074mm, the gold is up to 98%, For 0.04mm in particle size, the gold recovery is 97%.
STLB20, smallest model, with 0-60kgt/h capacity, we build all kinds of model for your different capacity request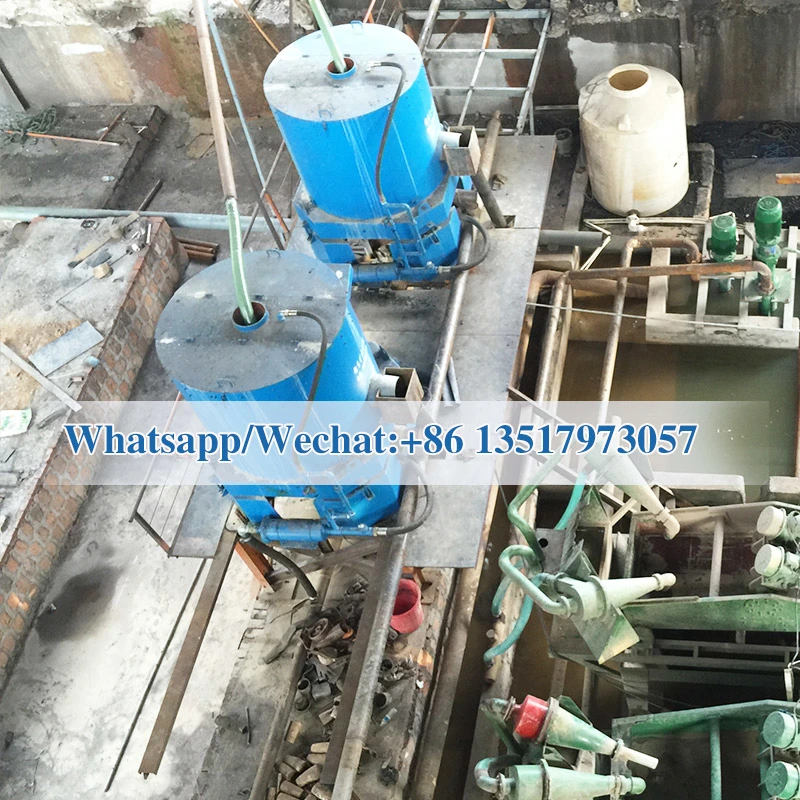 Provide high quality, best service and competitive price mining plants with flowchart and design diagram.
Such as shaking table, jig, gold trommel, gold sluice, rotary screen, sand washer, spiral chute et
c which passed ISO9001:2008 Certification.
We can make a special mineral processing approach for you with least cost & simplest way. We also provide all small/lab testing mining equipment, welcome to contact me for the details.

Please do not hesitate to contact for possible business co-operation on below E-mail.
Alluvial Gold Sand Ore Washing Plant Layout, is for raw gold ore without clay, especially for very fine gold, can
get 99% gold recovery ratio.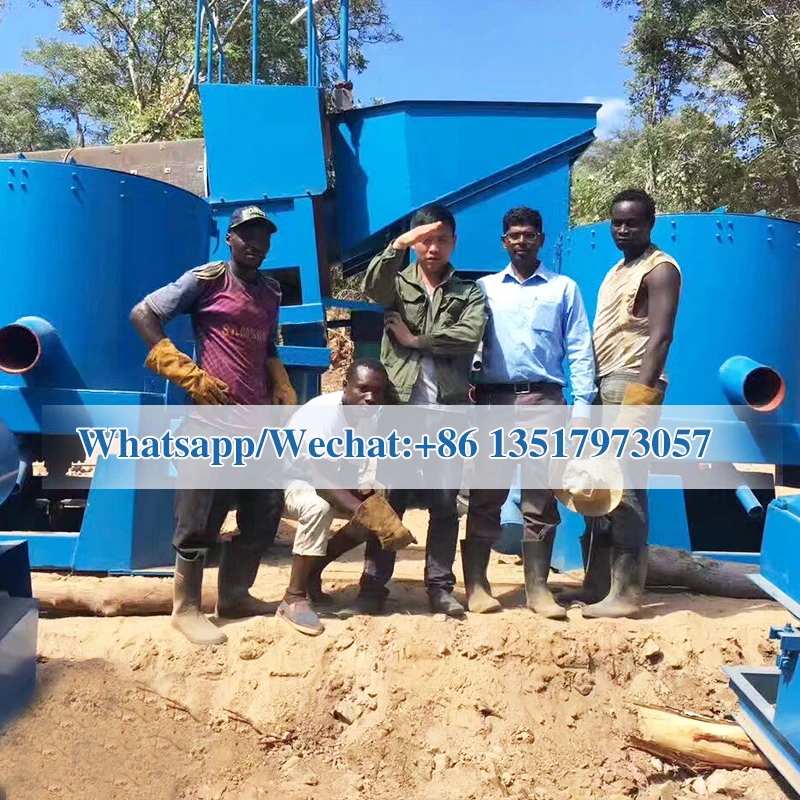 Model

STLB20

STLB30

STLB60

STLB80

Capacity (T/h)

0-0.6

2-3

8-12

40-45

Fluidization Water Required (m3/h)

2-3

3-5

7-10

30-36

Slurry Water Required (m3/h)

1.5-4

5-7

8-12

40-45

Feeding Density (%)

0-50

0-50

0-50

0-50

Feeding Size (mm)

0-3

0-3

0-5

0-5

Concentration Cleaning Up Cycle

Vein gold 1-3 Hours Placer gold:2-6 Hours

Concentrate Weight (Kg)

2

3-5

10-20

40-50

Power Requirements (Kw)

0.75

1.5

4

11

Weight (Kg)

205

380

1100

2300

Dimensions (mm)

914×700×900

1160×885×1165

1820×1450×1700

2520*1900*2020
Rotary Scrubber for clay sticky materials washing, vibrating screen for screening, more details please contact me at
/Mob: +86 13517973057