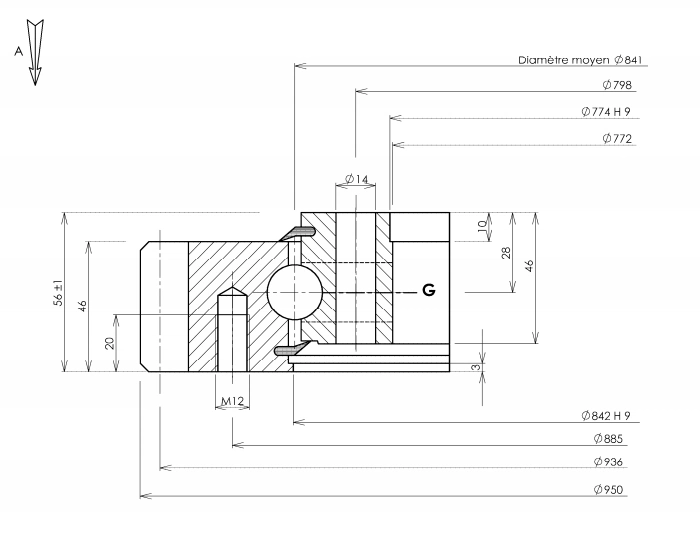 Detais for slewing ring bearing
Model:31 0841 01
ID:772MM
OD:950MM
H:56MM
M=8
Z=117
W.T.:70KG, more details, please contact us.........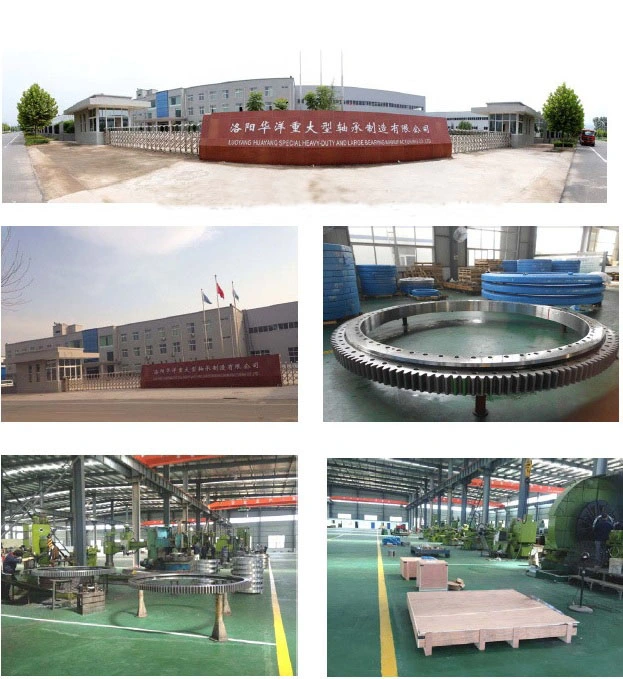 1.Introduction of LYHY single row four point contact ball slewing bearing
LYHY is a professional manufacturer in slewing ring bearings since 1993.We can also design and make other standard and non-standard ball bearings, roller bearings and precision bearings as per customer's different technical requirements.
Slewing bearing is also called slewing ring, slewing ring bearing, turntable bearing, and rotary bearing.
The single row ball slewing ring bearing is composed of 2 seat-rings.The balls contact with the circular race at four points, via which the axial force, radial force and resultant moment may be born simultaneously.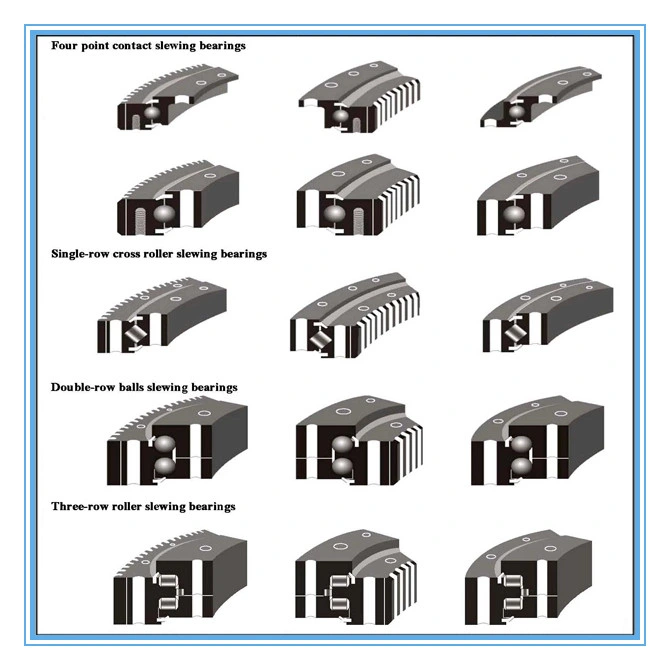 2.Structure of LYHY slewing bearings
Slewing ring bearings have different types as per different structures:
Single row ball slewing bearings
Double row ball slewing bearings
Crossed roller slewing bearings
Triple row roller slewing bearings
Flange slewing bearings
3.Why choose LYHY slewing bearings
A pioneer in slewing bearing field, rich experience, can do design, produce, mounting guide
Small order accepted
SO certified company
Variorum models
7*24hours hotline to help you with your cranes
Strict quality control system to ensure quality for slewing bearing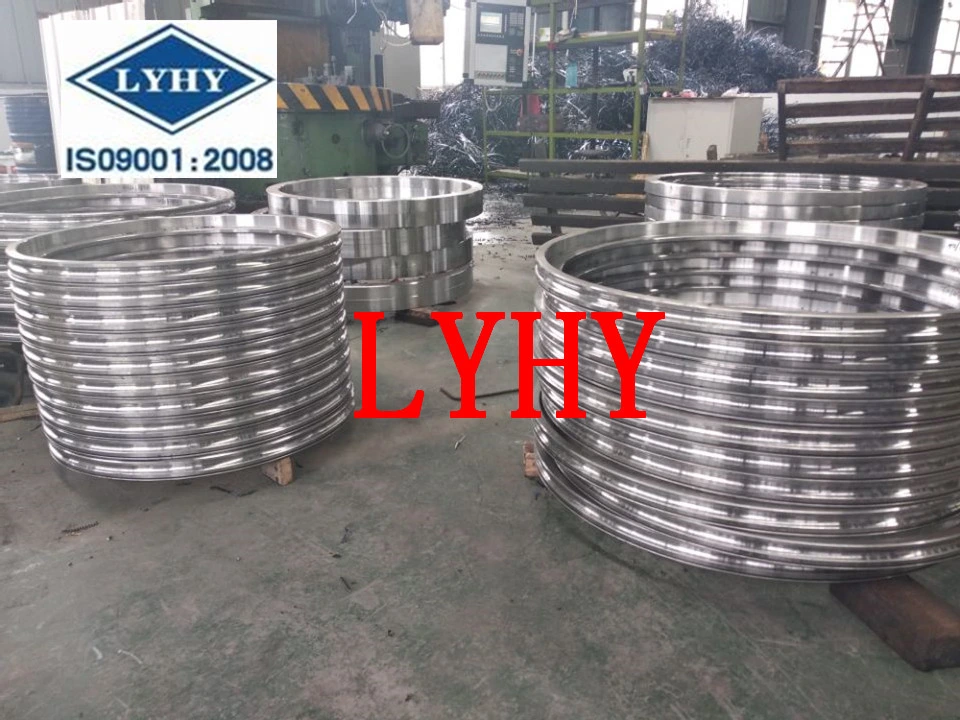 4.Packaging Details for large diameter slewing bearing with pinion
1).Bearing surface is covered with the anti-rust oil first;And then wrapped with the plastic film;
2).And then packed with Kraft paper and professional belts;
3).At last, with wooden box totally at the outer packing to invoid the rust or the moist;
4).We can depend on the customers demand to be packed;
5.We can manufacture replacement Slewing ring bearing:
01 0181 02, 01 0235 00, 01 0289 06, 06 0307 00, 01 0342 00, 21 0411 01, 31 0411 01, 01 0422 01, 06 0400 00, 06 0475 22, 21 0541 01, 31 0541 01, 06 0508 00, 01 0555 01, 06 0574 09, 21 0641 01, 31 0641 01, 01 0626 00, 06 0675 00, 21 0741 01, 31 0741 01, 01 0765 01, 06 0734 00, 21 0841 01, 31 0841 01, 06 0823 18, 01 0880 00, 21 0941 01, 31 0941 01, 01 0947 00, 06 0980 09, 21 1091 01,
31 1091 01, 01 1050 00, 06 1116 00, 01 1180 00, 01 1295 01, 06 1250 21, 06 1390 03, 01 1410 00,
01 1595 00, 06 1595 04, 01 1712 00, 01 1845 02, 06 1790 09, 01 1895 00, 01 2040 03, 06 2002 00,
01 2202 00, 01 2130 00, 06 2242 00, 01 2560 01, 06 2500 01, 06 2810 09, 01 3031 00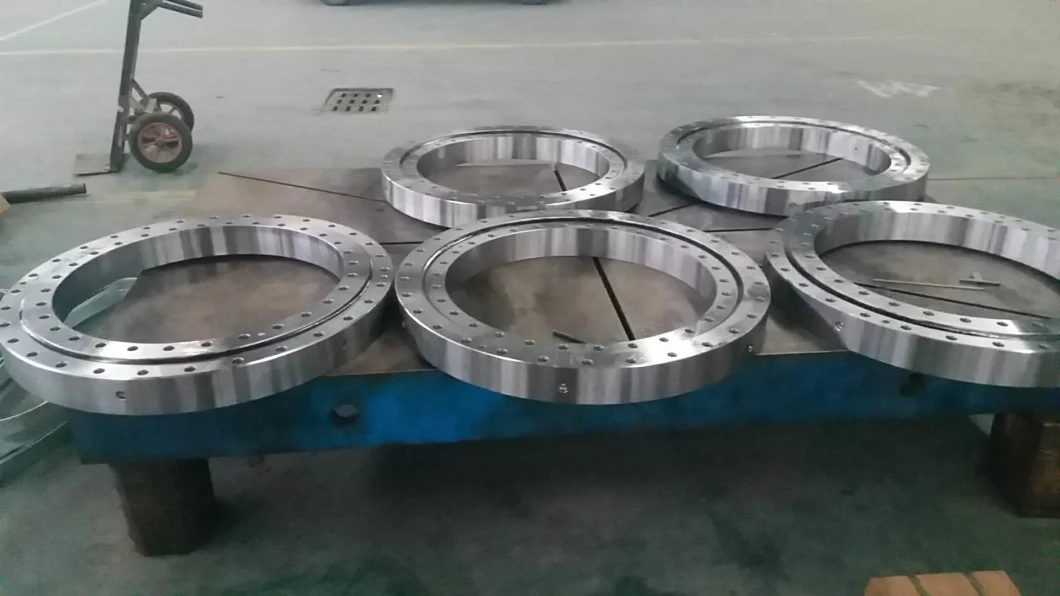 02 0245 00, 02 0308 01, 07 0380 01, 32 0411 01, 02 0422 01, 07 0489 11, 02 0520 00, 32 0541 01,
22 0541 01, 07 0573 00, 32 0641 01, 02 0626 01, 22 0641 01, 07 0673 00, 32 0741 01, 02 0720 02,
22 0741 01, 07 0770 00, 32 0841 01, 02 0820 00, 22 0841 01, 07 0849 00, 07 0885 01, 32 0941 01,
22 0941 01, 02 0935 00, 07 0946 05, 32 1091 01, 02 1050 00, 07 1075 01, 22 1091 01, 07 1140 13,
02 1225 00, 02 1292 00, 07 1304 04, 07 1385 03, 02 1415 00, 02 1565 02, 07 1606 02, 02 1715 00,
02 1805 02, 07 1830 04, 02 2040 00, 07 1997 04, 02 2022 00, 02 2202 00, 07 2400 00, 02 2560 00,
02 2618 00, 07 2810 09, 02 3074 01
03 0181 07, 03 0217 00, 08 0220 05, 03 0260 00, 08 0270 04, 08 0307 00, 08 0340 04, 03 0342 05,
03 0360 00, 08 0405 05, 03 0402 00, 33 0411 01, 08 0400 00, 23 0411 01, 08 0475 08, 33 0541 01,
03 0525 01, 23 0541 01, 08 0574 08, 03 0600 02, 33 0641 01, 23 0641 01, 33 0741 01, 08 0675 00,
08 0675 00, 23 0741 01, 03 0785 00, 33 0841 01, 23 0841 01, 08 0823 08, 33 0941 01, 23 0941 01,
03 0980 02, 08 0980 06, 33 1091 01, 23 1091 01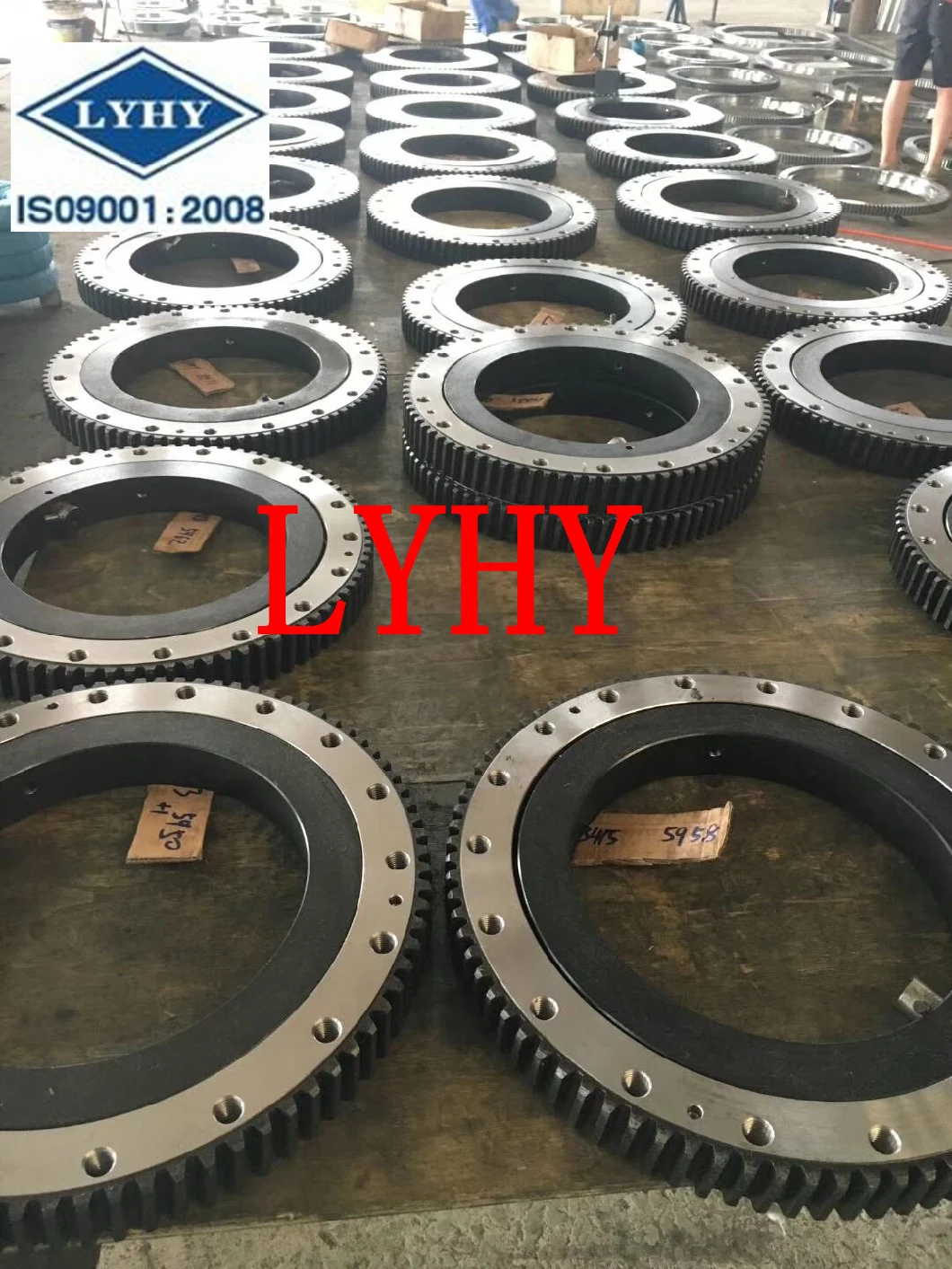 1.Product Series 1.Single-row Four-point Contact Slewing Bearing
2.Single-row Crossed Roller Slewing bearing
3.Double-row Four-point Contact Slewing bearing
4.Three-row Roller Slewing Bearing
5.Light type slewing bearing
6.Size range Outside Diameter:300mm--6000mm
7.Material 42 CrMo, 50Mn
8.Minimum order 1 piece
9.Feature Low noise and low vibration
10.Certificates ISO9001:2008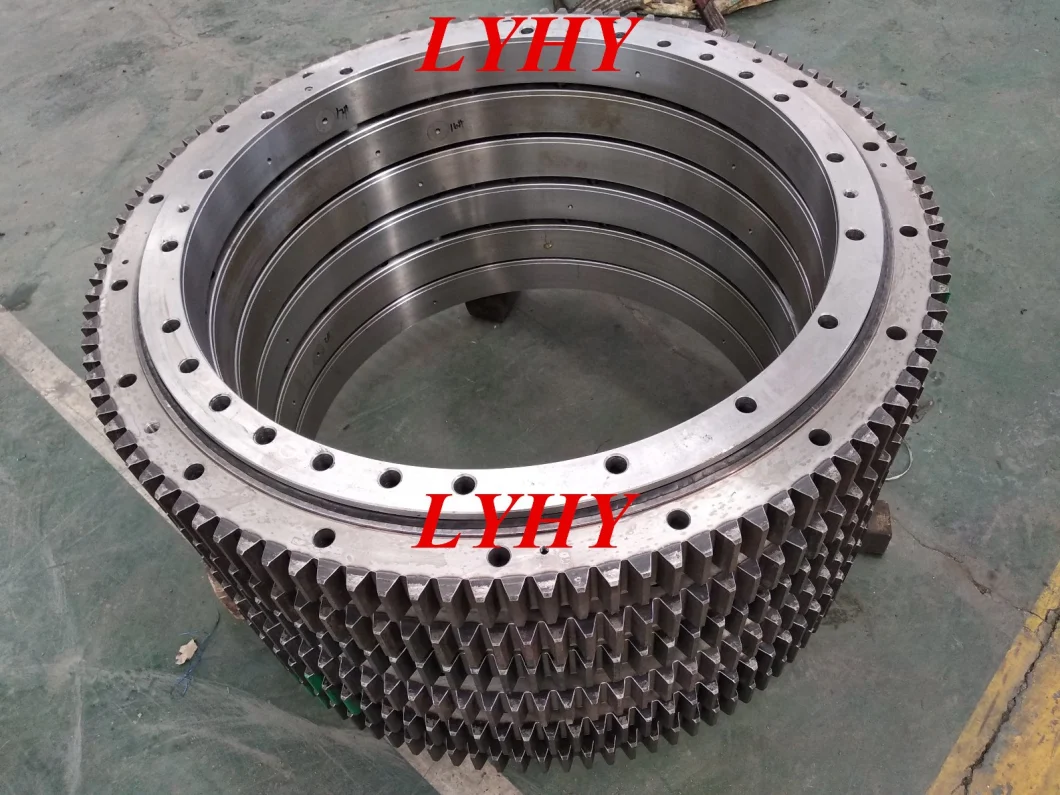 | | | | | | | |
| --- | --- | --- | --- | --- | --- | --- |
| OD | ID | H | W.T. | M | Z | Types |
| 244 | 125 | 25 | 5 | 2 | 120 | 01 0181 02 |
| 318 | 169 | 45 | 14 | 3 | 104 | 01 0235 00 |
| 379 | 210 | 45 | 20 | 4 | 92 | 01 0289 06 |
| 403.5 | 234 | 55 | 25 | 4.5 | 88 | 06 0307 00 |
| 440 | 265 | 50 | 28 | 4.5 | 95 | 01 0342 00 |
| 505 | 304 | 56 | 32 | 5 | 99 | 21 0411 01 |
| 505 | 342 | 56 | 32 | 5 | 99 | 31 0411 01 |
| 529 | 323 | 54 | 45 | 5 | 103 | 01 0422 01 |
| 535 | 305 | 75 | 61 | 8 | 65 | 06 0400 00 |
| 589 | 383 | 75 | 62 | 5 | 116 | 06 0475 22 |
| 640 | 434 | 56 | 44 | 6 | 105 | 21 0541 01 |
| 640 | 472 | 56 | 46 | 6 | 105 | 31 0541 01 |
| 654 | 390 | 85 | 98 | 8 | 80 | 06 0508 00 |
| 689 | 455 | 74 | 89 | 6 | 112 | 01 0555 01 |
| 700 | 479 | 77 | 85 | 6 | 114 | 06 0574 09 |
| 742 | 534 | 56 | 52 | 6 | 122 | 21 0641 01 |
| 742 | 572 | 56 | 55 | 6 | 122 | 31 0641 01 |
| 774 | 516 | 82 | 118 | 8 | 94 | 01 0626 00 |
| 816 | 573 | 90 | 129 | 6 | 132 | 06 0675 00 |
| 840 | 634 | 56 | 60 | 6 | 138 | 21 0741 01 |
| 840 | 672 | 56 | 62 | 6 | 138 | 31 0741 01 |
| 863 | 679 | 82 | 102 | 6 | 142 | 01 0765 01 |
| 886 | 610 | 85 | 155 | 8 | 108 | 06 0734 00 |
| 950 | 734 | 56 | 68 | 8 | 117 | 21 0841 01 |
| 950 | 772 | 56 | 71 | 8 | 117 | 31 0841 01 |
| 979 | 717 | 100 | 178 | 10 | 94 | 06 0823 18 |
| 1022 | 770 | 82 | 159 | 8 | 125 | 01 0880 00 |
| 1046 | 834 | 56 | 76 | 8 | 129 | 21 0941 01 |
| 1046 | 872 | 56 | 78 | 8 | 129 | 31 0941 01 |
| 1094 | 833 | 82 | 179 | 8 | 134 | 01 0947 00 |
| 1144 | 869 | 100 | 228 | 10 | 111 | 06 0980 09 |
| 1198 | 984 | 56 | 86 | 8 | 148 | 21 1091 01 |
| 1198 | 1022 | 56 | 91 | 8 | 148 | 31 1091 01 |
| 1218 | 930 | 98 | 268 | 10 | 119 | 01 1050 00 |
| 1289.5 | 984 | 114 | 330 | 10 | 125 | 06 1116 00 |
| 1358 | 1045 | 98 | 325 | 10 | 133 | 01 1180 00 |
| 1431 | 1200 | 63 | 176 | 8 | 177 | 01 1295 01 |
| 1476 | 1084 | 110 | 503 | 10 | 144 | 06 1250 21 |
| 1604 | 1206 | 130 | 653 | 10 | 157 | 06 1390 03 |
| 1605 | 1270 | 110 | 469 | 12 | 131 | 01 1410 00 |
| 1727 | 1500 | 63 | 213 | 8 | 214 | 01 1595 00 |
| 1836 | 1433 | 135 | 791 | 16 | 112 | 06 1595 04 |
| 1929 | 1565 | 110 | 617 | 14 | 135 | 01 1712 00 |
| 1975 | 1750 | 63 | 244 | 8 | 245 | 01 1845 02 |
| 2027 | 1615 | 150 | 1004 | 14 | 142 | 06 1790 09 |
| 2140 | 1720 | 130 | 953 | 16 | 131 | 01 1895 00 |
| 2165 | 1950 | 68 | 278 | 8 | 269 | 01 2040 03 |
| 2267 | 1815 | 140 | 1174 | 16 | 139 | 06 2002 00 |
| 2342 | 2091 | 70 | 373 | 8 | 290 | 01 2202 00 |
| 2390 | 1950 | 130 | 1111 | 18 | 130 | 01 2130 00 |
| 2534 | 2042 | 144 | 1482 | 18 | 138 | 06 2242 00 |
| 2695 | 2425 | 63 | 411 | 8 | 335 | 01 2560 01 |
| 2790 | 2290 | 164 | 1895 | 18 | 151 | 06 2500 01 |
| 3116 | 2600 | 164 | 2200 | 20 | 152 | 06 2810 09 |
| 3200 | 2914 | 90 | 716 | 10 | 318 | 01 3031 00 |